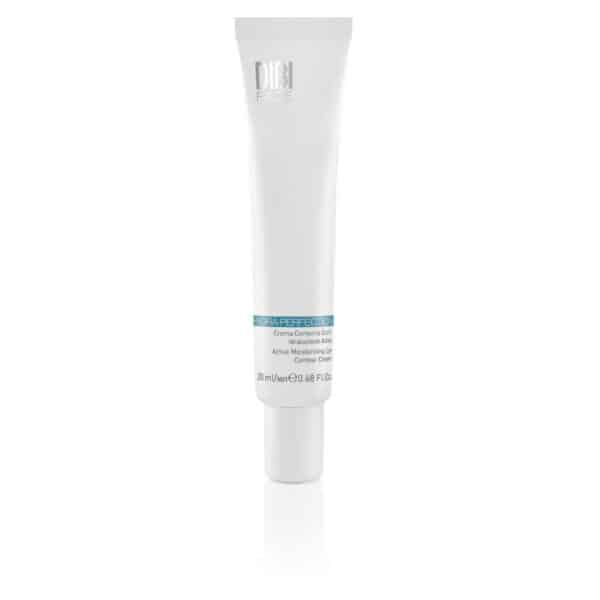 DIBI Hydra Perfection Active Eye Contour Cream
£43.00
Combat under-eye bags and dark circles with the Hydra Perfection Active Eye Contour Cream from DIBI Milano. The cream's rich, hydrating formula is packed with decongestant active ingredients that helps refresh, hydrate and strengthen the area around the eyes. Suitable for all skin types.
Available in 20ml.
The Hydra Perfection Active Moisturizing Eye Contour Cream is designed to lessen dehydration symptoms and restore freshness to the eyes. It is well known for its decongestant properties to combat puffy eyes and dark circles by boosting microcirculation. It contains caffeine and peptide complex.
Benefits include:
• Preventing early skin ageing.
• Is Glycol Arginine-containing.
• Reduces the appearance of premature skin ageing and combats it.
• Refreshes the eyes with new vitality.
• A nourishing and moisturising effect.
A melting cream devoid of colourants and scent, the Active Moisturizing Eye Contour Cream was created especially for the sensitive eye contour region.
As a result, the eye contour is fed, moisturised, and strengthened, and ageing indications are reduced.
For all skin types and all seasons, it is advised.
If you're looking for a DIBI Hydra Perfection Gift Set, head here.
Skin Types
Combination
Dehydrated Skin
Dry Skin
Dull Skin
Normal Skin
Oily Skin
Sensitive Skin
---
Product Information
It contains Glyco-Arginine, an active ingredient that fights and visibly reduces the appearance of premature skin ageing.
Available in 20ml.
How To Apply
Apply morning and evening to the eye contour and massage until fully absorbed.
Ingredients
– PERFORMANCE – HYDRA COMPLEX
– GLYCO-ARGININE
– VITAMIN E
– PEPTIDE COMPLEX