Patient information:
Pam R,
65
Pam's story
Pam (65) from Essex lost an enormous three stone (19kg) in two weeks as a result of unforeseen complications following gall bladder keyhole surgery in 2017. The toll on her face was striking, leaving her dramatically aged in just a few short weeks. Pam experienced sagging skin, severe wrinkles, and a loss of her facial contours, especially around her cheeks and jawline. Inevitably, her confidence took a huge knock.
Pam says, "I'd never suffered with a lined face before, and now I had droopy, skin which was all crêpey. I felt like I had aged decades in what felt like just a few short weeks. I remembered the He-Man cartoons my kids used to watch back in the 80's and felt like I looked like the evil villain Skeletor."
Sudden weight loss can speed up ageing. For many women over the age of 40, losing weight from their bodies can also display volume loss in the face. Skin on the face can become looser, creating a gaunt, hollow look, resulting in a prematurely aged appearance. For Pam, who had lost a significant amount of weight in a very short space of time following the complications of her operation, the effect of weight loss was even more dramatic.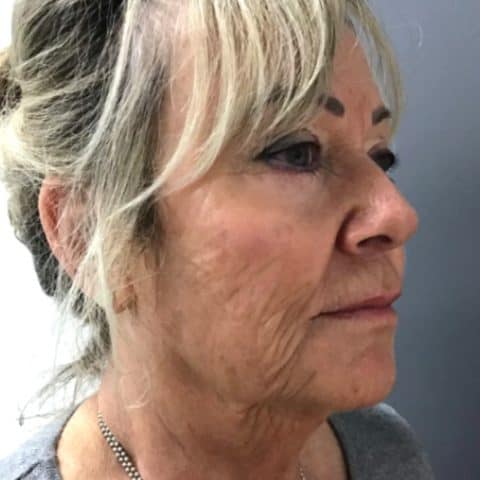 Before Treatment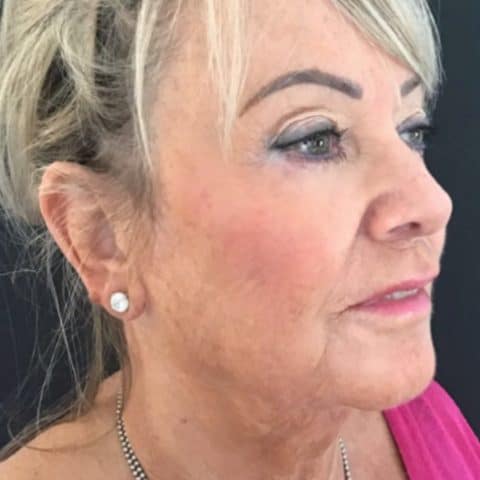 After Treatment
With her daughter's wedding on the horizon, and feeling self-conscious, Pam visited our clinic to see how we could help. During a consultation, our Medical Director Dr Liakas assessed Pam, and helped her create a bespoke treatment plan to address her concerns. This involved combining two treatments: Silhouette Soft Thread Lift and the Ellansé Liquid Facelift.
Silhouette Soft thread-lifting is a minimally-invasive treatment that works on two levels. Firstly, it repositions sagging tissues around the mid-face, jaws, jowls and neck for an instant "lifting" effect. Secondly, it provides deep-collagen regeneration for a natural biological lift. This treatment also leaves patients with a fresh youthful glow, which is best appreciated after three months – the time it takes for the new collagen to flourish. Procedures take only 60 minutes, and patients can typically return to their normal activities right after.
Pam followed this procedure with an Ellansé liquid facelift in order to optimise results. Ellansé is a collagen-stimulating dermal filler that plumps areas that have lost volume. Results are tangible yet subtle. It allows people to project an age appropriate, but aged-healthily appearance. Again, procedures are short and discreet, and the product continues to work over many months for long-lasting benefits. By combining these two treatments, Pam was able to achieve her goals and restore her lost confidence.
Before Treatment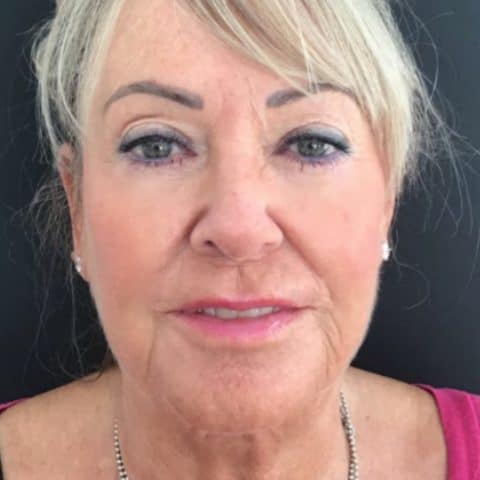 After Treatment
Pam's Outcome and Testimony
Pam said: "The results of my treatments were incredible, better than I had hoped. I had lost quite a lot of my confidence as a result of what had happened to me, and it was great to feel like I was looking more like me again. I enjoyed every moment of my daughter's wedding, and happily smiled in all the photos. Even more recently, just before lockdown, I enjoyed a fabulous cruise on my own around the Canaries, something I don't think I would have had the confidence to do before my treatment. I felt amazing.  I don't mind looking in the mirror anymore, I feel fresh faced and youthfully plumped."