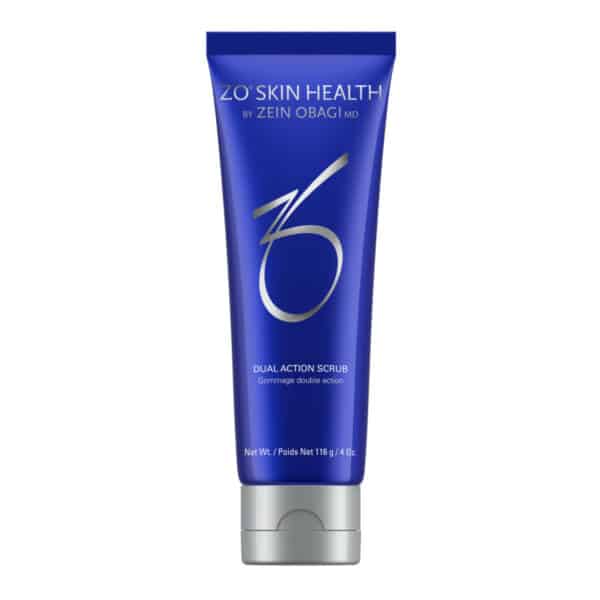 ZO Dual Action Scrub
Alumier and ZO products are only available through specialist clinics and require a phone consultation before purchase. Please submit your enquiry below and our skin specialist will be in touch to discuss the best products for your needs.
Enquire here
ZO Dual Action Scrub helps remove dead skin cells and excess surface oils that can lead to clogged pores.
Amazing benefits of the ZO Dual Action Scrub include:
• Dual-action exfoliation
• Targets oil and bacteria
• Calming and soothing
• Restores lipids to enhance barrier restoration
• Provides continuous antioxidant benefits
• ZO-RRS2® Exclusive antioxidant complex protects skin to help minimize inflammation and damage induced by daily oxidative stress
• ZOX12® provides continuous antioxidant protection against free radical damage
Enjoying ZO? Why not try the ZO Illuminating AOX Serum to go with it! Don't miss out!
Product Information
Net weight 116g
Suitable for Acne and Oily Skin
How To Apply
Gently massage a small amount on damp face and neck. Rinse thoroughly.
Ingredients
• Lactic and salicylic acid: Chemically exfoliate dead skin cells
• Synthetic wax and candelilla wax: A non-irritating duo to physically exfoliate and slough away skin cells
• Melaleuca alternifolia (tea tree) leaf oil: Dissolves and removes excess oils on skin while destroying P. acnes bacteria
that can lead to acne
• Glycerin and sodium PCA: Restore hydration and reinforce skin barrier function
• ZOX12®: Exclusive 12-hour time release antioxidant complex (encapsulated vitamins A, C and E) helps protect the skin from free
radical damage and prevents future signs of premature aging
• ZO-RRS2® : Exclusive complex of leontopodium alpinum (edelweiss) and marrubium vulgare (white horehound) meristem cell
cultures provides powerful antioxidant protection and minimizes inflammation to prevent future skin damage