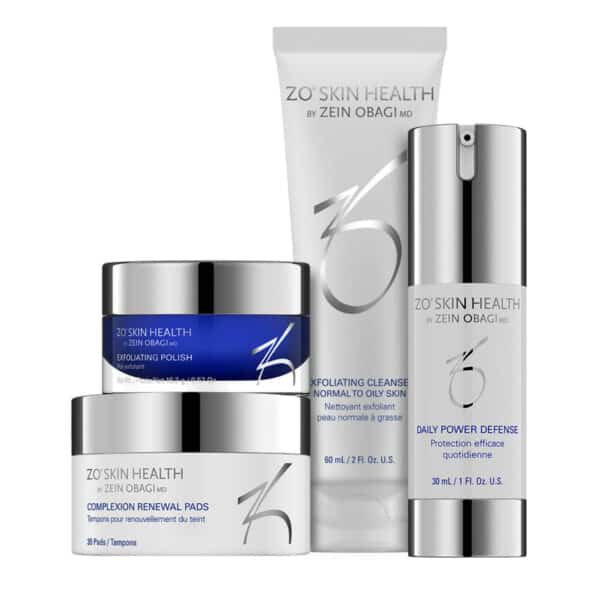 ZO Daily Skincare Program Kit (Phase 1)
Alumier and ZO products are only available through specialist clinics and require a phone consultation before purchase. Please submit your enquiry below and our skin specialist will be in touch to discuss the best products for your needs.
Enquire here
Daily Skincare Program Kit provides the first line of defense against the natural ageing process.
The ZO Skin Health Phase 1 Daily Skincare Program is the ideal entry point into the cosmeceuticals industry. With the exception of people with rosacea, who should instead use the ZO Skin Health Normalizing System, it is typically utilised for the majority of skin types. The Phase 1 package follows the ZO Principles of cleansing, exfoliating, controlling oil, and protecting and correcting the skin.
The best kit for your skin care needs.
Amazing benefits of the ZO Daily Skincare Program Kit (Phase 1) include:
Help preserve and maintain a more youthful-looking complexion
Improve and maintain the appearance of even skin tone and finer pores
Keep skin hydrated
The ZO Skin Health Phase 1 kit contains the following:
Exfoliating Cleanser – 60 mL
Exfoliating Polish – 16.2 g
Complexion Renewal Pads – 30 Pads
Daily Power Defense – 30 mL
Get it today and start your day with healthy skin!
Enjoying ZO? Why not try the ZO Illuminating AOX Serum to go with it! Don't miss out and get yours today!
Skin Types
Combination
Dehydrated Skin
Dull Skin
Normal Skin
Oily Skin
Product Information
Products included in this kit:
Exfoliating Cleanser, 60ml
Exfoliating Polish, 16.2g
Complexion Renewal Pads, 30 pads
Daily Power Defense, 30ml
How To Apply
Please refer to individual products
Ingredients
Please refer to individual products