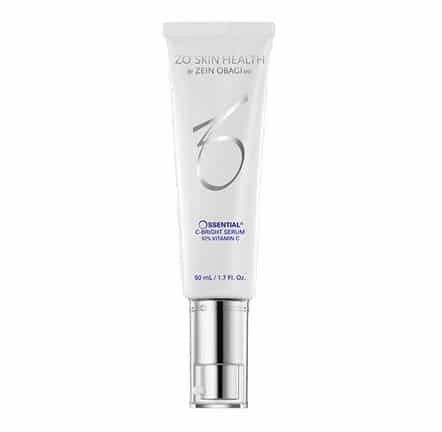 ZO C-Bright 10% Vitamin C Serum
Alumier and ZO products are only available through specialist clinics and require a phone consultation before purchase. Please submit your enquiry below and our skin specialist will be in touch to discuss the best products for your needs.
Enquire here
Vitamin C is essential for maintaining beautiful, healthy skin. The C-Bright 10% Vitamin C Serum from ZO Skin Health provides your skin a potent shot of pure vitamin C that is stabilised, and helps to brighten and re-texture the skin. This water-free formula instantly self-activates upon contact with skin's natural water content, maximising exfoliation and brightening effects to reveal radiant, even-toned skin.
Provides a potent dose of vitamin C that brightens and redefines skin, promoting a more even skin tone and minimizing the appearance of fine lines and wrinkles.
ZO C-Bright 10% benefits include:
Uses the power of pure vitamin C which to rapidly exfoliate the skin's surface.
Advanced vitamin C ester goes one step further below the skin surface to prevent new melanin pigment from forming and resulting in hyperpigmentation.
Powerful antioxidants help defend against environmental triggers that can initiate new pigment formation.
Naturally occurring lipids hydrate and support skin barrier restoration.
Minimises the appearance of line and wrinkles.
Available in 50 ml
Enjoying ZO? Why not try the ZO Illuminating AOX Serum to go with it!
Skin Types
Dehydrated Skin
Dry Skin
Dull Skin
Normal Skin
Product Information
How To Apply
Apply to clean, dry skin.
Ingredients
Cyclopentasiloxane, Dimethicone Crosspolymer, Ascorbic Acid, Dimethicone, Cyclomethicone, Phenoxyethanol, Citrus Aurantium Amara Peel Oil, Squalane, Tetrahexyldecyl Ascorbate, Tocopheryl Acetate, Ubiquinone, Limonene, Citral