Patient information:
Vanessa D,
39,
amateur horse-rider
Vanessa's story
Vanessa is a competitive amateur horse-rider. In November 2019, she fell off her horse and broke the bottom vertebrae in her back. When she resumed riding, she was unable to ride in a straight line, steer to the left, or canter with her horse (canter is a medium-fast pace). These problems persisted for several months. Vanessa was unable to compete in events and her confidence was rock bottom.
During her consultation at Vie Aesthetics, our practitioners discovered that her left thigh had become ONE INCH THINNER than her right thigh where her muscles had weakened. This is why she was unable to steer left. She had also lost strength throughout her core and her abdomen had lost tone, which greatly impacted her riding. We subsequently recommended her a full course of ViEMax Sculpt EMS, to be targeted specifically at her legs and her abdomen in order to address the muscular imbalance and enhance the strength in her core.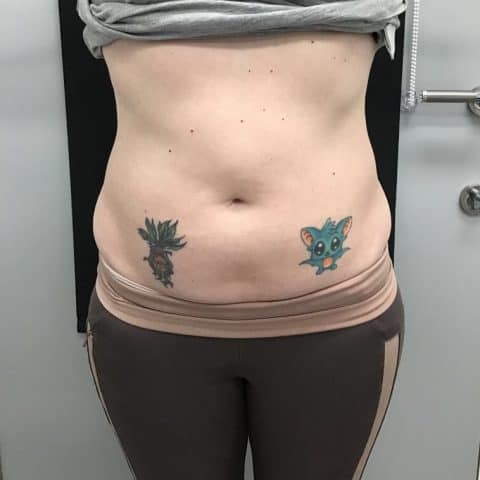 Tummy before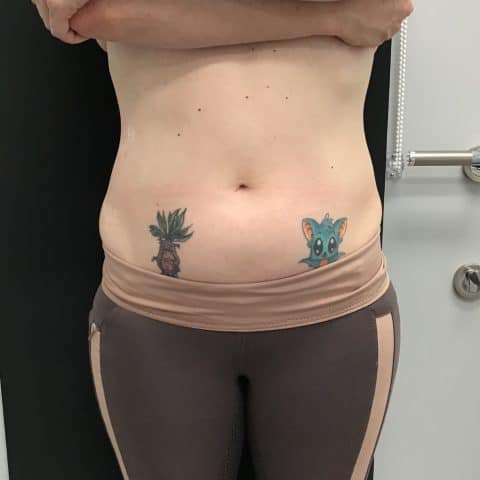 Tummy after
Clinical Results
Following a full course of 12 sessions, Vanessa's muscle mass had increased by 0.6 inches in the upper thigh of her weaker left leg. This made it more balanced with the right leg (just 0.4 inches difference in muscle girth now).
In addition, Vanessa's stomach was noticeably more toned and flatter. Her lower tummy had reduced from 34.4 inches to 33.6 inches, a total of 0.8 inches. This can be seen in the photos. The results of her measurements are illustrated in the table further down.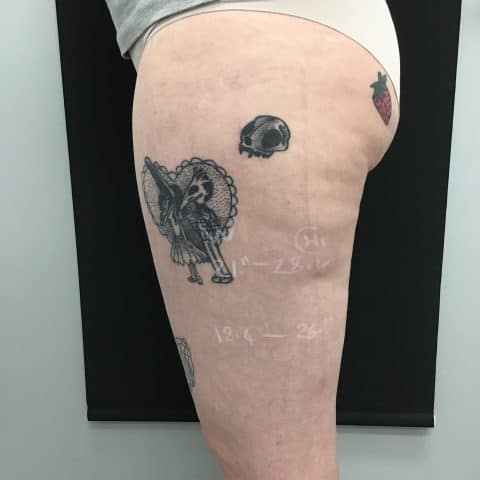 Thigh before
Thigh after
Tummy before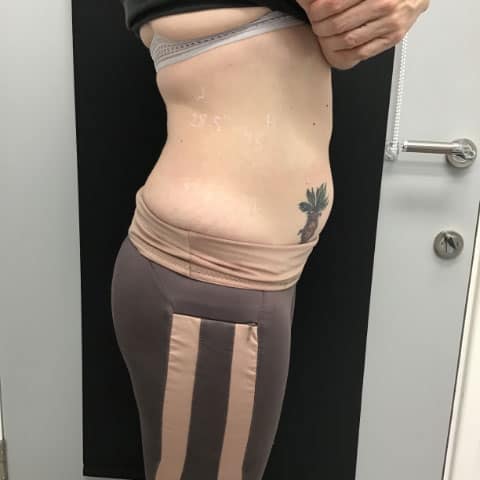 Tummy after
| | Before treatment | After treatment |
| --- | --- | --- |
| Waist | 29.4 inches | 28.5 inches |
| Lower Tummy | 34.4 inches | 33.6 inches |
| Upper Thigh (Bad leg) | 21 inches | 21.6 inches |
| Lower Thigh (Bad leg) | 18.4 inches | 18.6 inches |
| Upper Thigh (Good leg) | 22 inches | 22 inches |
| Lower Thigh (Good leg) | 19 inches | 19.1 inches |
Vanessa's Outcome and Testimony
After one course of ViEMax Sculpt, Vanessa says that her riding had returned to how it was before the injury. She attributes this entirely to the treatment. She began noticing improvements after just the fourth session.
Vanessa said: "After the fourth session, I was already sitting straighter on my horse and I was even able to canter a little. I competed in a dressage event and the judges said that my horse moved quite straight and anyone who rides horses will know riding straight is one of the hardest things to do!
"By the end of the six-week course, I was able to do half-hour riding lessons with cantering and I was more stable in my seat from using my core. My trainer described my sudden progress as miraculous. She said it was like two different riders. I was virtually back to where I was before the injury. The fact that the treatment has also made my stomach flatter is a bonus!
"I can honestly say that the ViEMax Sculpt has rescued my riding because I was in such a dark place in the months after my injury. I'm blown away by what I've achieved in such a short space of time. It's been incredible."