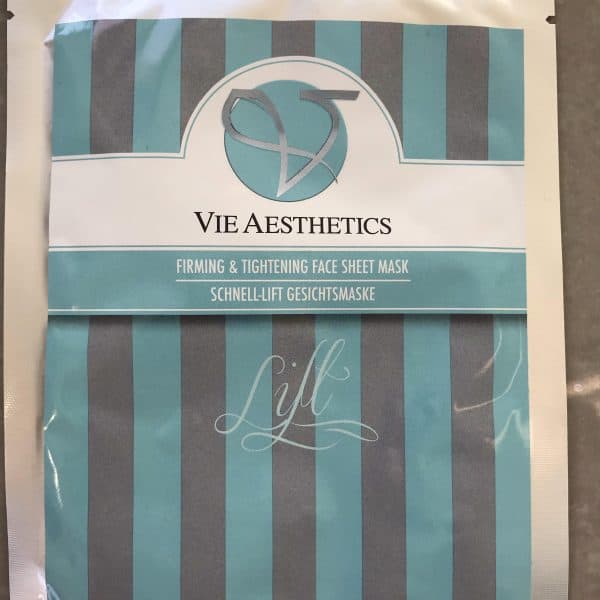 Vie Aesthetics Face Sheet Mask – Firming & Tightening
Alumier and ZO products are only available through specialist clinics and require a phone consultation before purchase. Please submit your enquiry below and our skin specialist will be in touch to discuss the best products for your needs.
Enquire here
Our own bespoke Firming and Tightening Face Sheet Mask, designed to keep your skin firm and supple and give an instant tightening effect. As part of a skincare regimen, it can help prevent against the formation of fine lines and wrinkles. Suitable for all skin types.
Concerns
Acne
Ageing
Pigmentation
Rosacea
Skin Types
Combination
Dehydrated Skin
Dry Skin
Dull Skin
Normal Skin
Oily Skin
Sensitive Skin
---
Product Information
1 x Mask.
Suitable for all skin types.
How To Apply
Cleanse the face first.
Open the mask pack and unfold mask.
Place the invisible silk mask onto face until it fits the contours on the face.
Remove the film from the right to left.
Leave the mask on your face for 15 to 20 minutes to absorb the nutrients.
Remove and discard the mask after use, gently cleanse face with warm water.
Important: Please do a patch test on local skin before using this product.
Ingredients
AQUA, GLYCERIN, 1.3-BUTANEDIOL VARBOMER, CELLULOSE, ALLANTOIN, EDTA-2NA, HYALURONIC ACID, POLYSORBATE 20, TRIETHANOLAMINE, CLADOSIPHON, OKAMURANUS EXTRACT, PORTULACA OLERACEA EXTRACT, CORN GLUTEN AMINO ACIDS, TREMELLA EXTRACT, PHENOXYETHANOL, PUNICA GRANATUM EXTRACT, PARFUME