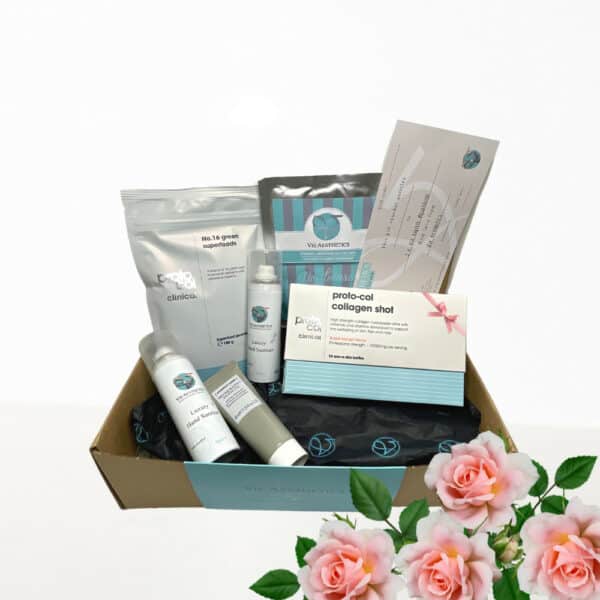 The Self-Love Kit
The essential The Self-Love Kit for any wellness enthusiast. Looking to pamper yourself from the inside-out? Then this is the kit for you; fit with collagen shots and all.
This kit contains:
Proto-col No.16 Green Superfoods Powder
2x Vie Aesthetics Hand Sanitisers
Comfort Zone Tranquillity Shower Gel
The contents of The Self-Love Kit are worth £106.90! (Saving you £98!)
Product information
Proto-col No.16 Green Superfoods Powder
A mix of 16 micronutrients, including amino acids, vitamins, enzymes, antioxidants, and vital fatty acids, make up Green Superfoods Powder. Given that it is a superb source of plant-based protein, it is especially well suited for vegetarians and vegans.
Proto-col Collagen Shots (Blood Orange Flavour)
With this delicious collagen shot with blood orange flavour, you may gain a lot of advantages. The most prevalent protein in our bodies is collagen, and beyond the age of 25, our bodies begin to lose their collagen reserves. Due to this, our skin becomes less elastic, which results in the development of fine lines and wrinkles.
Vie Aesthetics Sheet Face Masks
Give your skin some TLC with our Vie Aesthetics Sheet Mask. This tissue mask is our very own bespoke product designed to refresh your skin through carefully concocted solutions made up of nourishing vitamins and peptides, carefully selected by our Skin Specialists.
Comfort Zone Tranquillity Shower Gel
A shower cream with exceptional moisturising qualities for smooth, fragrant skin. It's perfect for all skin types thanks to a mix of essential oils.
---