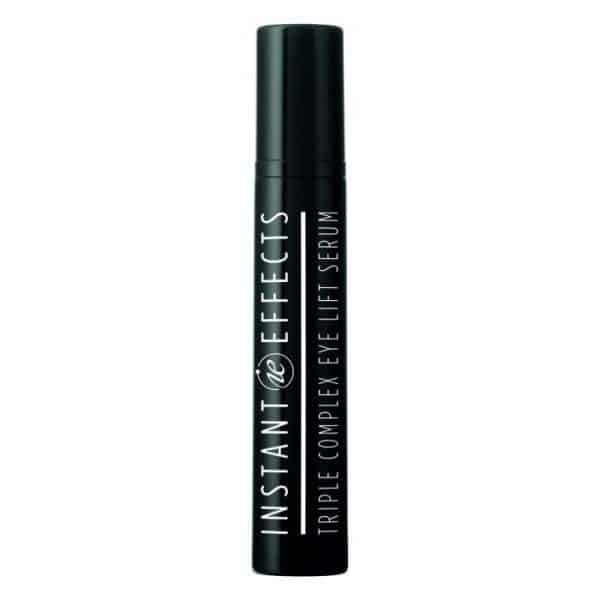 Instant Effects Triple Complex Eye Lift Serum
The Instant Effects Triple Complex Eye Lift Serum is an anti-pollutant, anti-ageing eye serum that's clinically proven to prevent skin damage caused by environmental pollution. It contains a powerful combination of patented OX2+ Oxygen Transfer Technology and Hyaluronic Acid spheres, which work fast to erase fine lines. Skin is left smoother, firmer and deeply hydrated.
Make-up will sit better on the skin and no longer sink into the fine lines around the eyes or lips. This results in an airbrushed effect.
Benefits of the Instant Effects Triple Complex Eye Lift Serum include:
– Reduces puffiness and appearance of dark circles
– Reduces crow's feet, fine lines and wrinkles by 36% in five minutes.
– Provides long-lasting hydration
– Patented OX2+ Oxygen Transfer Technology creates an anti-stress, anti-pollution effect that draws blood flow to the skin and reduces wrinkle depth.
Skin Types
Combination
Dehydrated Skin
Dry Skin
Dull Skin
Normal Skin
Oily Skin
Sensitive Skin
---
Product Information
Cruelty free, paraben free, gluten free, recycled and recyclable packaging.
How To Apply
After cleansing, apply Triple Complex Eye Lift to the under-eye area by delicately dabbing serum into the skin. Do not rub in.
Allow approximately 5 minutes for the product to absorb before applying other products. Make up will glide on and will not sink into the eye area.
For the best results, use daily. With increased use, you will see more dramatic results.