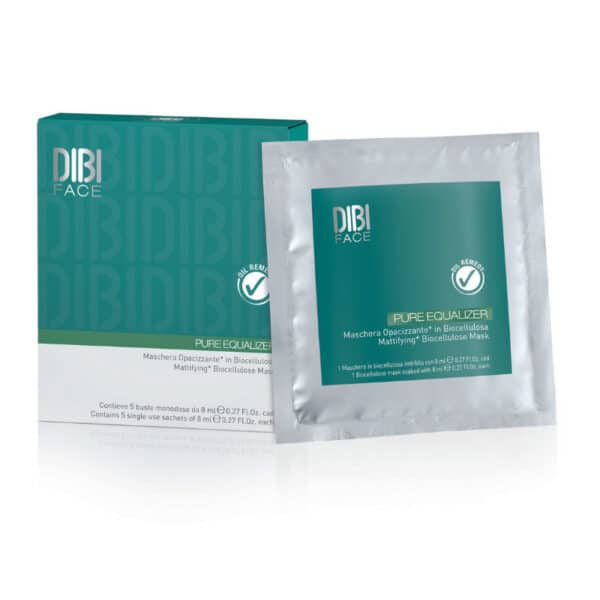 DIBI Pure Equalizer Biocellulose Mattifying Mask 5 x 8ml
Purify your skin with the Pure Equalizer Biocellulose Mattifying Mask 5 x 8ml from DIBI Milano.
The mask's advanced formula rebalances sebum production and refines your skin's texture. It adheres perfectly to your face so that its ingredients are easily absorbed by your skin, and gives you extreme comfort. Your skin is instantly purified!
Pure Equalizer Biocellulose Mattifying Mask is suitable for oily, combination and acne-prone skin.
A cutting-edge bio-cellulose mask effectively treats pores while balancing sebum production and improving skin texture.
Because not all flaws are the same, DIBI MILANO's first professional cosmetic collection is designed particularly to address combination and oily skin as well as impure skin that is prone to acne.
Contains 5 single use sachets of 8ml.
Love DIBI? Get yourself this DIBI gift set!
Skin Types
Combination
Oily Skin
Sensitive Skin
---
Product Information
Soothing action.
Peptide obtained from Moringa Oleifera seeds. It has a purifying and protective action against pollutants.
How To Apply
Remove the mask from the bag, open it and remove the two protective films. Apply to the face starting from the forehead, correctly placing the openings for the eyes and mouth. Leave on for 20 minutes, then remove and massage any product residues into the skin. Rinse your face with lukewarm water.
Ingredients
– GREEN TEA EXTRACT
– PURITECH