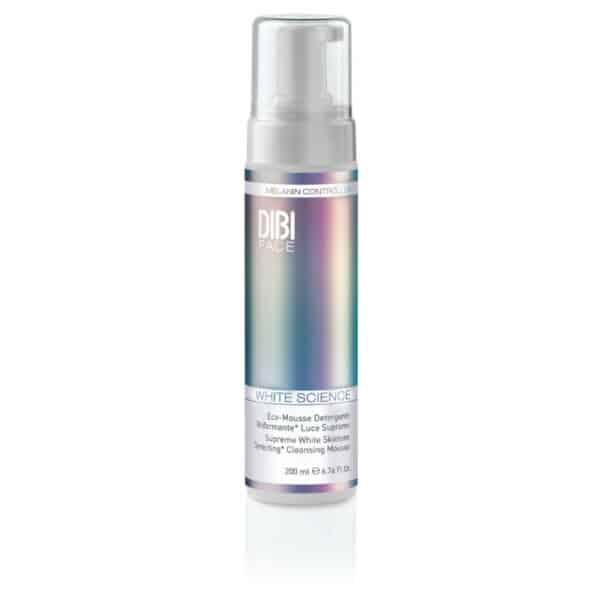 DIBI White Science Skintone Cleansing Mousse
Brighten and deep cleanse your skin and with the DIBI White Science Skintone Cleansing Mousse. This luxury cleanser from premium skincare brand DIBI Milano eliminates impurities by removing make-up residues and traces of smog. Its advanced hydrating formula helps to illuminate and even out your complexion by regulating the production of melanin.
An exceptional mousse texture that efficiently removes pollutants by eliminating make-up remnants and pollution traces is enhanced with whitology complex. a mixture that promotes young by triggering the skin's natural brightening process and aiding in the appearance of an even complexion.
The first brightening anti-spot* treatment from DIBI Milano that controls melanin for skin that is as clear and perfect as the light. A professional, cutting-edge procedure from DIBI MILANO diminishes skin discolorations, balances skin tone, lightens the complexion, and creates a flawless impression.
DIBI White Science Skintone Cleansing Mousse is available in 200ml.
Love DIBI? Get yourself this DIBI gift set! Treat your family member or your loved one with this amazing priced gift set, they'll love it!
Skin Types
Combination
Dehydrated Skin
Dry Skin
Dull Skin
Normal Skin
---
Product Information
A complex of active ingredients that regulates the formation of melanin, to lighten, illuminate and even out the skin.
How To Apply
Gently massage on face, neck and decolleté, then rinse.
Ingredients
– WHITOLOGY COMPLEX