"If you want flawless skin and instant results to aid you through the party season, then you shouldn't look much further than the Perfect Peel. It really is one of the best things out there!"
With the party season on the horizon, the pressure to look and feel your best is usually never greater. Unfortunately, all that partying can take a toll on your skin, so in some ways it can be a catch 22 situation.  In this blog, our staff share their experiences of one of our most effective, fastest-working treatments available for beautiful skin:
The Perfect Peel
.
Simply put, The Perfect Peel is a powerful weapon against a range of skin-related problems. It combats ageing, reduces large pores, diminishes fine lines and wrinkles, and even overcomes conditions such as acne, pigmentation and melasma. It can also be used for simply brightening and toning the skin, leaving you with a revitalised appearance after just one week. The end-result is always the same: silky smooth skin.
You have probably heard of chemical peels. They have been a mainstay of the aesthetic industry for years. Peels work by removing the top layer of old, damaged skin, leaving fresh skin to bloom underneath. There are different grades of peels, which determine how deep they delve into the skin layers.The Perfect Peel is a chemical peel, but it's arguably the most advanced one available. Introduced to the clinic earlier this year, it's a medium-strength, medical-grade peel, which means it must only be applied by a trained professional and supervised by a doctor. The treatment boosts skin health from deep down and brightens complexions, with results achieved after just one week. One of the main reasons why the Perfect Peel is so unique is that it requires ZERO preparation.
"With most peels, you need to prep your skin for about eight weeks in advance," explains Vie Aesthetics senior skin therapist Aimee Piper. "This is to ensure it's in good health, and to also prevent pigmentation following the procedure." The Perfect Peel contains a
unique blend of vitamins and acids
, including
Glutathione
, which is t
he strongest antioxidant available on the planet
at the moment, the superhero of antioxidants, so to speak. Glutathione has never been incorporated into a peel before. This magic ingredient neutralises free radical damage which is great for beating premature wrinkles or eradicating scarring.
However, it's the combination of ingredients that make the Perfect Peel such a powerful force, irrespective of whether your concern is fine lines or acne."The Perfect Peel exfoliates your epidermis – the outermost layer of skin – which is where most fine lines and wrinkles are," says Aimee. "Its special blend of acids also stimulates the production of collagen and elastin for firmer skin. It then targets the underlying damage in the dermis – the middle layer of skin – which is caused by sun or acne.The Perfect Peel exfoliates so deeply that all this is effectively lifted out."
Skin problem? All bases covered
The Perfect Peel is versatile and can be used for general skin maintenance, brightening your skin, slowing down the ageing process, and reducing pore size and the appearance of fine lines and wrinkles. Alternatively, it can battle and reverse conditions such as acne, acne scarring, melasma, and pigmentation caused by sun damage. It means business.
For people with a phobia of needles, but who wish to smooth out fine lines, the Perfect Peel might be considered as an alternative to Botox. However, for clients who already use Botox as anti-ageing tool, the two treatments complement each other remarkably well. "This is especially true for clients who maybe have deeper lines who can't achieve, for example, a smooth forehead with just Botox alone," explains Aimee Piper. "Sometimes the doctor can only soften the lines, but by using the treatments in combination, the results of Botox can be optimised." Regardless of your goals, as with any skin-based treatment, caring for your skin at home is essential to making the most of the Perfect Peel. You can't maintain results unless you use the correct products between sessions.
"The Perfect Peel performs miracles to exfoliate skin deep down and give you fresh baby-bum skin, and to stimulate collagen and elastin," says Amie Hibbert.
"There's little point in having the treatment if you don't use the appropriate products afterwards to keep your skin healthy and protected. All year-round skincare is paramount. You should use an SPF religiously to protect against sun damage, and invest in a Vitamin C cream, and a quality exfoliator and a cleanser."
How many Perfect Peel sessions you need, and how regularly, however, depends on your
own situation.
"If a patient doesn't have too many concerns, the Perfect Peel is great for making the skin healthier, smoother and brighter," says medical director Dr. Ioannis Liakas. "Alternatively, we've had patients with severe ageing and sun damaged skin. In those instances, we recommended three or four sessions, with one month in between. Sun damaged skin gets thick and leathery, so we need to thin that down to normal thickness in order that any subsequent facial treatments will penetrate the skin and get to where they need to."
So, what's it like having a Perfect Peel?
​That's an easy question to answer for us – because members of the team have enjoyed them
first-hand.
Our resident make-up expert Zak was the third member of the team to experience a Perfect Peel. He said he wanted to try it to improve the overall quality of his skin, but also because he had some minor pigmentation around his hairline caused by sun beds (which he no longer uses!!!). "I've had light chemical peels before, but this procedure felt very different," says Zak. "The whole session lasted from 45 mins to an hour. It wasn't unpleasant, but you do feel it. There's a burning sensation but it's very fleeting, it only lasts about 10 seconds. The skin afterwards feels quite tight and looks red in places, and you start peeling on day three. By day six, you are left with beautiful, smooth skin." Zak explains that there is a home-care kit that you must use during recovery. "You wash your face with cold water, and then you treat the areas you want to benefit most with easy-use wipes that contain powerful Vitamin C combined with Retinol. You do this for the first couple of days. It's very straightforward."
HR manager Anna had several sessions to eliminate the scarring caused by the acne condition, which had bothered her since her late teens. "Scarring is very common for anyone who has suffered from medium to severe acne like I have," she says. "Knowing how much this dented my confidence, Amie Hibbert suggested that I
should try the Perfect Peel. What particularly appealed to me about this treatment was how fast it works – results delivered in a week. And it doesn't need a preparation beforehand."
Anna had also had peels previously, and ranked the discomfort felt during the procedure as a "5" on a scale of one to ten. She says she was able to resume her normal skincare and make-up routine after day five, once the peeling had stopped. "A week after my first treatment, my skin texture had improved significantly. More importantly, my scarring had been visibly reduced. I was delighted with the results and very excited by my fresh, new skin."
Aimee Piper says she tried the Perfect Peel to show clients the possibilities of achieving great skin, as well as readying herself for the party season.
"I wanted to have porcelain skin and no pores for Christmas and the winter months," she says. "Vie Aesthetics gave me the opportunity to achieve that. I had pores on my T-Zone, some pot-hole scarring and old, red scars on my cheeks. After one treatment, they were dramatically reduced, and my skin is satin smooth. Make-up sits on my skin beautifully."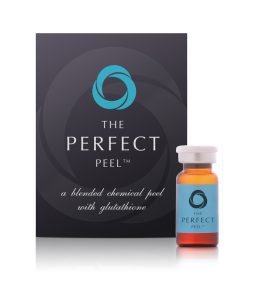 However, despite achieving instant results, Aimee Piper says that the Perfect Peel should bepart of a longer-term goal and maintenance plan. "My journey has only just begun," she says. "One session isn't enough, and clients should understand that when booking. I will probably look to have up to three sessions, usually with four weeks in between. The end goal is to have gorgeous skin that requires minimal
make-up." But Aimee Piper says that if you want to look your best for the party season, then the Perfect Peel will have you covered.
"Ultimately, the Perfect Peel is a staple treatment for you to enjoy one to four times a year,"she says. "But yes, it's unbeatable to have before that big event, wedding, or Xmas party, to give you a complexion and make-up ready surface to be proud of."
The session costs £300 and includes your skin consultation, treatment and your home-care kit. If you want to find out if the Perfect Peel is right for you, why not pop in or book yourself in for a free consultation today.
We look forward to hearing from you!
Vicky Grammatikopoulou